PROUDLY LOCATED IN CHICAGO 🦅
FIND YOUR PERFECT SKIN COLOUR!
The fragrance-free formula is lightweight and quickly absorbs into the skin without any dryness or caking. 
The color-matching formula is designed for protecting and moisturizing the skin as it works to EVEN OUT your complexion.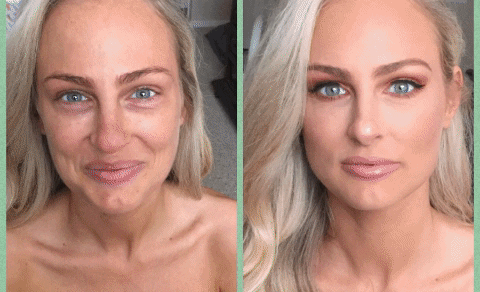 TLM™ Color Changing Foundation is designed for daily use and will give your skin that illuminating silky finish other foundations just don't provide.
FEATURES:
Easily Blends into Skin
Lightweight, and Blend-able
Waterproof, and Fade-Proof
Dermatologist Tested
Hypoallergenic
Suitable for sensitive skin
TLM™ Color Changing Foundation is a revolutionary new liquid foundation that goes on white and instantly self-adjusts to match your EXACT skin tone. Our unique color-matching formula protects and moisturizes the skin as it works to even out your complexion. This foundation contains SPF 15 sun protection to shield your skin from harmful UVA and UVB rays. It is designed for daily use and will give your skin that illuminating silky finish other foundations just don't provide.

Available in 1 skin tone-adjusting shade

SPF 15 Broad Spectrum

Dermatologist Tested

Hypoallergenic

Suitable for sensitive skin
The exclusive shade-sensing beads are activated by pressure upon application. So, as the makeup is thoroughly blended into the skin, it intuitively transforms to your skin tone for all day, natural-looking color in your perfect shade.
✅ Waterproof
✅ Fade-proof
✅ Totally Transfer-Resistant


Foundation Ingredients: Titanium Dioxide, Paraffinum Liquididum, Paraffin, Cera, Microcristallina, Glyceryl Stearate, Petrolatum, Silica Silylate, Hydroxycitronellal, Eugenol, Isoeugenol, Butylphenyl Methylpropional, Coumarin, Citronellol, Geraniol, D-limonene, Citral, Amyl Cinnamal, Linalool, Parfum, CI77491, CI 77492, CI 77499.
What Our Customers are Saying
  Stacy Watson: 
I've been using it with no issues(aside from the sunscreen-y smell) and it matches my skin tone perfectly every time. I apply it with my hands like I would a moisturizer instead of using an applicator like a beauty blender or a brush (yes, my hands are always clean first). Trying to get an even skin tone without really caking myself up, this stuff is great!
  Sandy Rogers:
This foundation is the best! My favorite foundation!! It changes to match my skin just the way I wanted. I totally love it and will actually ordered BESTSELLER 6 Pack (4+2 FREE) when I run out of this bottle. I have used several different foundations and this the best!!! I recommend this to everyone!!
  Linda Farrelly:
For a few years, I have been looking for a foundation that fits my skin and has SPF. After a long search, I finally found the perfect foundation and I am so happy with it! I immediately ordered 1 and now I ordered another 3!
  Elizabeth W.
Okay, this foundation is pretty dang cool! It's really nice to have during the summer because my skin tone changes a lot depending on how much sun I've been getting, also because it is really lightweight and has sunscreen. A little bit goes a long way- one pump is usually all I need to cover my whole face. It adjusts to your skin color perfectly. I will say, I usually wear a moisturizer under my foundation, but I found that this foundation is moisturizing enough without it. It's perfect just by itself. I definitely will buy it again!
  Jane Metzger
Love love love finally find my perfect colour in warm sand in winter and honey in summer.. Love this purchase so worth it.. Thanks seller. Small amount goes a long wait... Perfect to travel.. Love love love..
---